713-730-2907
Hours: M-F 8:30 to 5:30 S 9-12 Noon
GET TO KNOW ABOUT GUNITE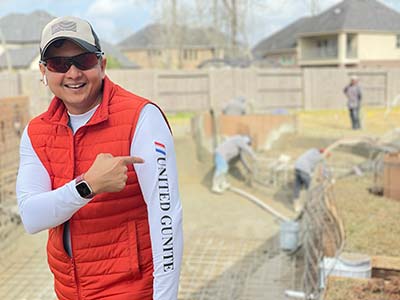 Gunite is one of the most preferred swimming pool materials and is ideal for all types of residential and commercial pools. At United Gunite Inc, we are known for our high-quality pool services and cater to swimming pool builders in and around Cypress, TX. Although our clients know about swimming pool construction and the different materials used, here is some more information to add to your expertise.
What Is Gunite?
Gunite was invented way back in 1910 when a two-chamber "cement cannon" based on inventor Carl Akeley's concept was produced and marketed to the building industry to repair deteriorating concrete. Historically, plaster was utilized for similar purposes; however, this novel product made of cement, sand, and water began to be used in their place. The outcome was superior, resulting in the issuance of a proprietary patent.
The cement, water, and sand mixture are applied to a steel grid or rebar structure to produce a dense and resilient protective layer, which is necessary for many outdoor applications, including swimming pools. Gunite is used to line structures, tunnels, and construction applications, including sealing areas, fissures, and cracks that could be sources of structural instability and/or leakages.
Is Gunite the Same As Shotcrete?
Gunite and shotcrete are fundamentally the same material, although applied in distinct ways. Gunite is the most often used trade word for dry-gun concrete, whereas shotcrete is the most frequently used trade term for wet-gun concrete. The guniting process begins with the dry concrete materials being placed in a hopper, then pneumatically pumped out through a thick hose into a nozzle.
The nozzle operator then regulates the water addition, transforming the dry materials into a concrete mixture when the slurry reaches the required surface. This allows the complete operator control over the amount of water added to the mix, enabling a more precise placement procedure without extra accelerators. It is the recommended option when the application process requires numerous breaks.
Advantages of Gunite
Gunite offers various benefits over poured concrete in the following ways:
Consolidated, compressed, and placed concurrently
Typically, a maximum 3/8-inch aggregate size contributes to the product's quality and manageability.
Superior adhesion to surfaces compared to standard concrete
When combined with steel fiber, it can be used in place of welded wire mesh, providing increased flexural strength, adaptability, and toughness.
In general, this type of concrete is less costly than conventional concrete
Diminished shrinkage and decreased permeability
Standard Application Tips
You should always hire qualified professionals to apply gunite. This work often takes more knowledge and experience than other materials since the operator must constantly regulate the water quantity for the best results, and a mistake can destroy the product. We are skilled and experienced in gunite pool installations and can handle all types of residential and commercial projects.
At United Gunite, Inc., we are here to provide you with all the information you need about Gunite. We offer customized services to swimming pool contractors for their projects. For more details, please drop us a line through this Online Form or call us at 713-730-2907.
We Provide Services to the Following Cities, Towns and Surrounding Regions of TX: